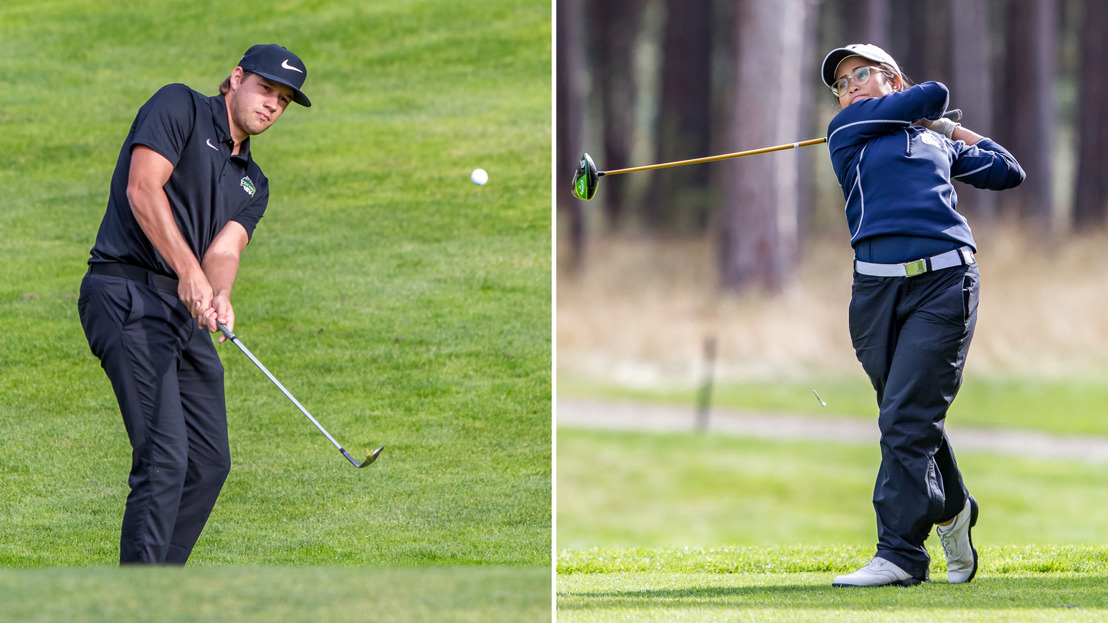 CW Stars: Golfers shine bright in sport's conference debut
UFV's Daniel Campbell and UBC's Shania Remandaban earn first stars
EDMONTON – This week's Canada West Three Stars features some history, as Daniel Campbell and Shania Remandaban are the first golfers to be honoured as weekly award winners.
UFV's Campbell is the Men's First Star of the Week after winning the men's individual title at the inaugural CW Golf Championships in Kelowna, while UBC's Remandaban is the Women's First Star after claiming the women's title.
The pair helped propel their teams to conference banners over the weekend at Okanagan Golf Club in Kelowna.
---
MEN'S THREE STARS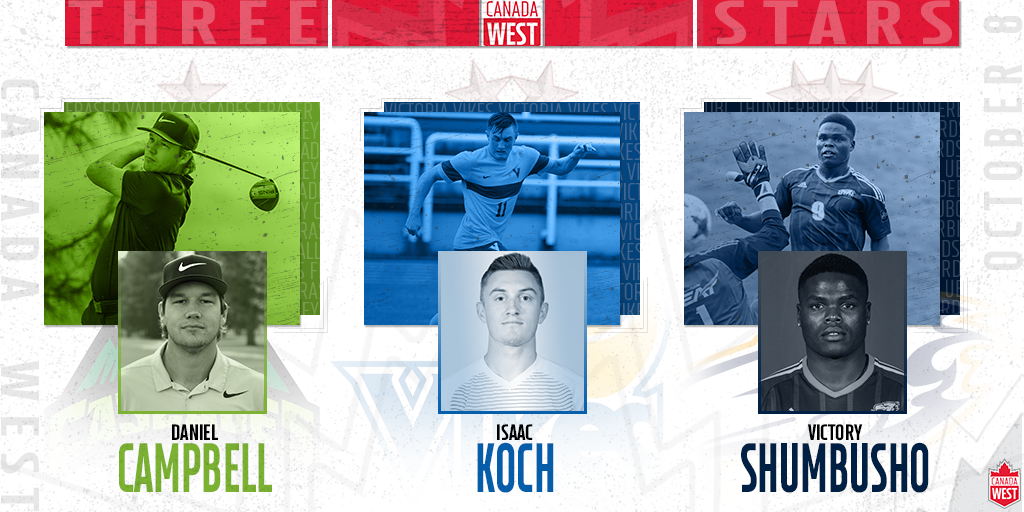 FIRST STAR: Daniel Campbell
Fraser Valley Cascades / Golf

5th-year

Bellingham, Wash.

Business Admin

TOURNAMENT LOG: Saturday, Oct. 5 – eight-under 64 / Sunday, Oct. 6 – four-under 68.
Daniel Campbell led the way on a history-making weekend for the University of the Fraser Valley men's golf team.
The senior from Bellingham, Wash. dominated the inaugural Canada West Golf Championships, held at the Okanagan Golf Club in Kelowna. Campbell opened with an eight-under 64 on Saturday – just one stroke off the course record – and followed with a solid 68 on Sunday to finish at -12 for the weekend. That gave him a seven-stroke margin atop the men's individual standings as he outdistanced UBC's Andrzej Wierzba (-5) and UFV teammate Wyatt Brook (-4).
Campbell's performance paced the Cascades to an equally decisive victory in the men's team competition – their collective score of -14 was good for a 19-stroke triumph ahead of UBC (+5), UVic (+8) and the host UBC Okanagan Heat (+11).
Major titles are nothing new for Campbell – he owns Canadian University/College (2018) and CCAA (2017) individual crowns, and was a two-time PACWEST conference champion (2017 and 2018) before the Cascades made the move to Canada West this season. He also led the UFV men's squad to victory at each of those aforementioned events.
Campbell and the Cascades return to action next week at the Vikes Shootout at Cordova Bay GC in Victoria (Oct. 14-15).
SECOND STAR: M - Isaac Koch
Victoria Vikes / Soccer

4th-year

West Kelowna, B.C.

Humanities

GAME LOG: Friday, Oct. 4 – 3 goals in 3-0 win vs. UBC Okanagan / Saturday, Oct. 5 – 2 goals in 3-2 win vs. Thompson Rivers.
A goal-scoring explosion from Isaac Koch has vaulted the Victoria Vike midfielder up the Canada West goal list, as he now sits in a tie for the conference lead with eight. His 16 points are tops in CW.
Koch scored a trio of goals Friday in Victoria's 3-0 win over UBCO, before adding another two goals Saturday in the Vikes' 3-2 victory against Thompson Rivers.
Thanks in large part to Koch, the Vikes are in the race for top spot in the Pacific Division, as they sit just behind the UBC Thunderbirds. Victoria can take over first-place this weekend when they play UBC Thursday and Saturday in a home-and-home series.
THIRD STAR: F - Victory Shumbusho
UBC Thunderbirds / Soccer

3rd-year

Chilliwack, B.C.

Arts

GAME LOG: Friday, Oct. 4 – goal in 5-0 win vs. Thompson Rivers / Sunday, Oct. 6 – 2 goals in 2-2 draw vs. UBC Okanagan.
Victory Shumbusho's three-goal weekend helped secure four points for the UBC Thunderbirds in a pair of key division battles in Vancouver over the weekend.
The third-year forward perfectly lobbed the ball past TRU's keeper in the 31st minute Friday night to give the host T-Birds a 2-0 lead which they would only expand on in a dominant performance on home turf.
Shumbusho kept his hot streak going Sunday scoring twice within a six minute span in the first half.
Now with seven goals on the season, Shumbusho is tied for third in the Canada West as he leads the T-Birds in both goals and points.
The T-Birds sit atop the Pacific division with a 6-1-3 record. With four games remaining in the regular season schedule, UBC battles the Victoria Vikes this week in a home-and-home series starting Thursday on Vancouver Island.
---
WOMEN'S THREE STARS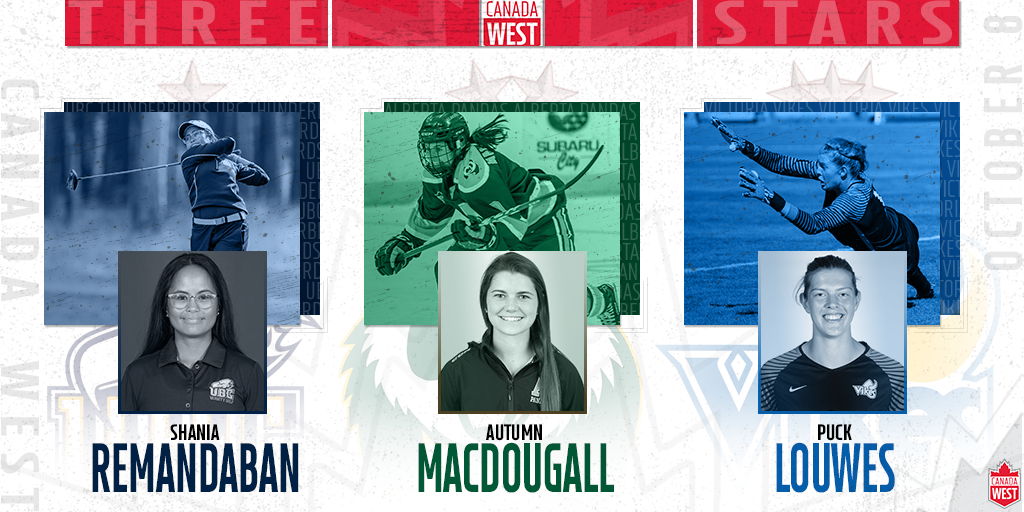 FIRST STAR: Shania Remandaban
UBC Thunderbirds / Golf

3rd-year

Coquitlam, B.C.

Arts

TOURNAMENT LOG: Saturday, Oct. 5 – six-over 78 / Sunday, Oct. 6 – two-under 70.
Shooting a two-under 70 on Sunday at Kelowna's Okanagan Golf Club Bear course, Shania Remandaban won the individual CW women's title by three strokes while helping the UBC Thunderbirds secure the women's team championship with a combined 17-over.
The third-year Thunderbird was the only women's golfer to shoot sub-par during Sunday's second round, combining for a two-round total score of 148 on the 5,742 yard course.
Remandaban birdied four of her last ten holes Sunday to capture the inaugural Canada West title.
SECOND STAR: F - Autumn MacDougall
Alberta Pandas / Hockey

5th-year

Cole Harbour, NS

Kinesiology, Sport, & Rec.

GAME LOG: Friday, Oct. 4 – goal and two assists in 7-1 win vs. UBC / Saturday, Oct. 5 – goal and three assists in 7-0 win vs. UBC.
Leading the Alberta Pandas to one of their most dominant weekends in a decade, fifth-year Pandas Hockey forward Autumn MacDougall poured in seven points in two wins over the UBC Thunderbirds.
The Cole Harbour, Nova Scotia product finished the weekend with two goals and five assists, as she leads Canada West with seven points after the opening weekend.
Alberta beat UBC 7-1 and 7-0 at Clare Drake Arena, marking the most goals they have scored in a weekend series since 2009.
MacDougall scored the game-winner in the Pandas win on Friday night, while also adding two assists. She followed that up with a four-point performance on Saturday, while also adding five shots and a +3 rating.
She also cracked the 100-point plateau this past weekend, becoming the 12th Panda to accomplish the feat.
The 2-0-0 Pandas will look for another big weekend, as they visit the Saskatchewan Huskies on Friday and Saturday night in Saskatoon.
THIRD STAR: GK - Puck Louwes
Victoria Vikes / Soccer

5th-year

Utrecht, Netherlands

Humanities

GAME LOG: Friday, Oct. 4 – three-save shutout in 1-0 win at UBC Okanagan / Sunday, Oct. 6 – five-save shutout in 1-0 win at Thompson Rivers.
The Victoria Vikes got a spark from goalkeeper Puck Louwes this past weekend, as the veteran keeper posted back-to-back shutouts in a pair of Victoria wins.
Louwes stepped up and delivered her fourth and fifth shutouts of the season, as the Vikes earned 1-0 road wins over UBCO and Thompson Rivers Friday and Saturday.
With just two weeks remaining in the regular season, Louwes sits third in conference saves (56), while her five shutouts is tied for second.