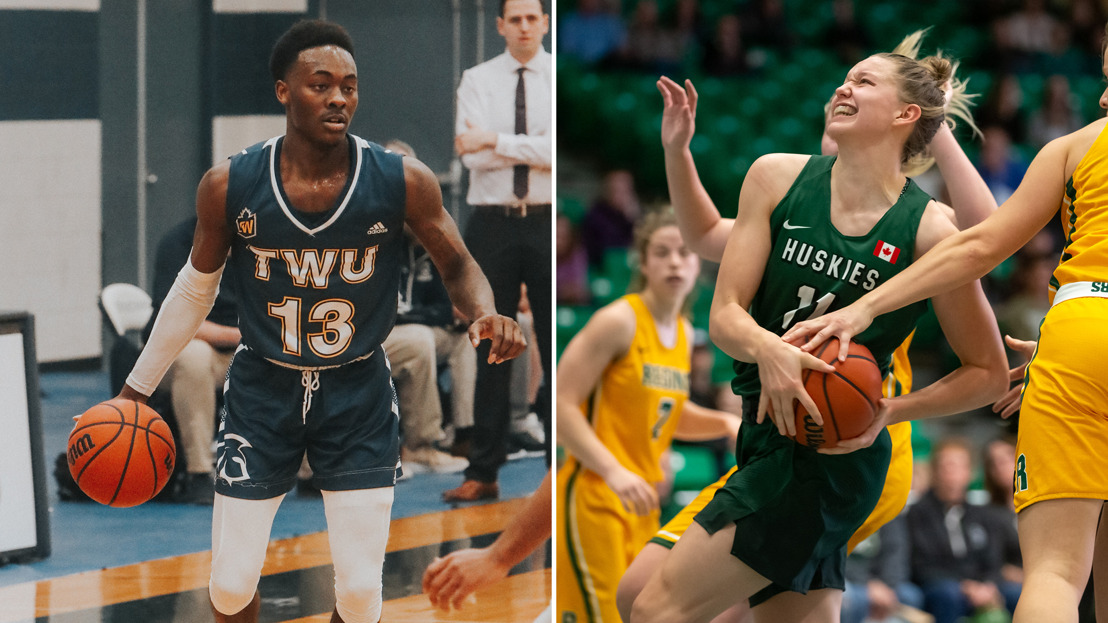 CW Stars: Gilbreath, Masikewich cap off first half in style
Conference set for December break
EDMONTON - Trinity Western's Ja'Qualyn Gilbreath and Saskatchewan's Summer Masikewich are the Canada West First Stars of the Week.
The pair helped their teams to sweeps over the weekend, as the conference gets set for its December break.
Gilbreath combined for 70 points in wins over MacEwan, while Masikewich posted 52 points and 21 rebounds in Saskatchewan's convincing wins versus Thompson Rivers.
The pair now move forward as the conference nominees for U SPORTS Athletes of the Week.

Also announced Tuesday were the Canada West Athletes of the Month for November, as Alberta's Grayson Pawlenchuk and UBC's Keylyn Filewich took home the honours.
Pawlenchuk posted six goals and six assists over eight games for the Golden Bears hockey squad, leading his team to first-place at the conference break. He currently sits second in the conference scoring race with 21 points
Filewich is averaging a double-double for the Thunderbirds women's basketball squad, with 19.3 points per game and 10.1 rebounds per game. Her PPG average is third in the conference, while rebound average is tops in Canada West.
---
MEN'S THREE STARS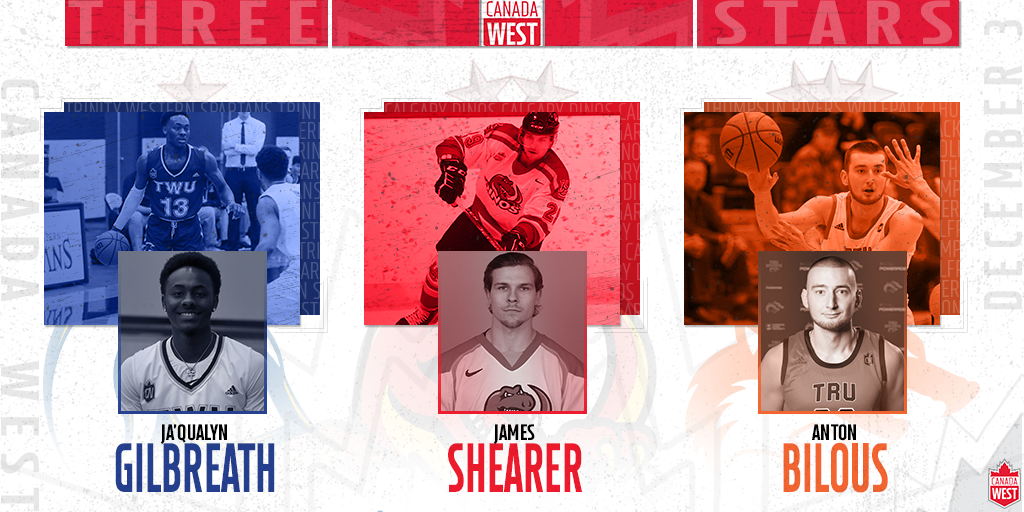 FIRST STAR: G - Ja'Qualyn Gilbreath
Trinity Western Spartans / Basketball

4th-year

Amarillo, Texas

General studies

GAME LOG: Friday, Nov. 29 – 33 points, 6 rebounds, in 109-97 win over MacEwan / Saturday, Nov. 30 – 37 points, 9 rebounds, 7 assists, and 4 steals in 100-93 win over MacEwan.
The Spartans men's basketball team made history last weekend, and fourth-year guard Ja'Qualyn Gilbreath was in the middle of it all.
In Friday's game, Gilbreath knocked down a game-high 33 points while shooting 50 per cent from the field to guide the Spartans to their first win in over 21 months.
Then on Saturday Gilbreath did everything he could to ensure the win wasn't a fluke. He scored a whopping 37 points, along with nine rebounds, seven assists and four steals as Trinity Western earned its first weekend sweep since Feb. 8-9, 2013. In the process, Gilbreath became the first Spartan to record 37 points in a game since TWU alum Vartan Tanielian dropped 38 against MacEwan Feb. 3, 2018.
The dominant weekend from Gilbreath saw his Canada West leading points per-game totals rise to 24.1.
The Spartans will be back in action in 2020, playing host to Saskatchewan Jan. 3-4 at the Langley Events Centre.
SECOND STAR: D - James Shearer
Calgary Dinos / Hockey

2nd-year

Brandon, Man.

Business

GAME LOG: Friday, Nov. 29 – goal and an assist in 5-4 SO win vs. Regina / Saturday, Nov. 30 – goal and an assist in 4-2 win vs. Regina.
The University of Calgary Dinos head into the December break with a share of second place in the Canada West standings, thanks in part to the performance of James Shearer.
The second-year defenceman posted two goals and two assists this past weekend during two games at home against the Regina Cougars. Shearer was also an impressive +6 while recording six shots on goal.
On Friday night Shearer registered a late first-period goal along with an assist in the middle frame as the Dinos established an early lead on Regina. They eventually held on for a 5-4 shootout win.
The next day, the Brandon, MB native played the role of hero for the Dinos.
After the Cougars had tied the game with less than five minutes left in the third period, Shearer scored mere seconds later to put his team back in front. He added an assist on the insurance marker as Calgary earned the 4-2 win.
The Dinos will return from the holidays on Jan. 3 when they begin a weekend set in Vancouver against the UBC Thunderbirds.
THIRD STAR: G - Anton Bilous
Thompson Rivers WolfPack / Basketball

5th-year

Cerkassy, Ukraine

Business

GAME LOG: Friday, Nov. 29 – 20 points, 5 rebounds, and 4 assists in 89-69 loss to Saskatchewan / Saturday, Nov. 30 – 25 points, 5 rebounds, and 2 assists in 92-85 win vs. Saskatchewan.
The Thompson Rivers University WolfPack and Saskatchewan Huskies duked it out offensively this past weekend splitting their two game series. In both contests, the WolfPack were led by fifth-year Ukrainian guard Anton Bilous.
Bilous was their leading scorer both nights as he scored over 20 points in both contests.
Many of his baskets, especially in the win Saturday, came at key points of the game.
Bilous and his WolfPack teammates are off for the December break and don't return to play until January 3, 2020 when they have a home series with the Mount Royal Cougars at the Tournament Capital Centre.
---
WOMEN'S THREE STARS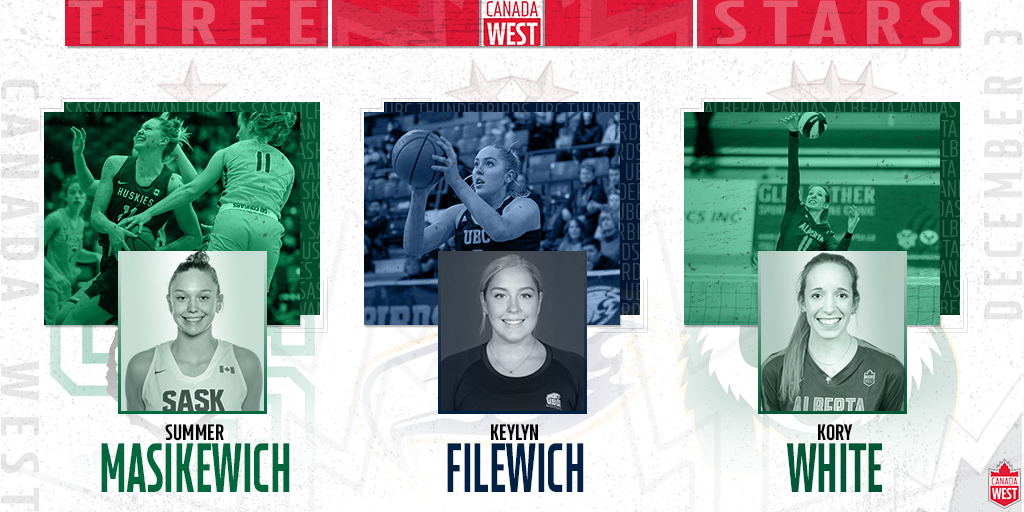 FIRST STAR: F - Summer Masikewich
Saskatchewan Huskies / Basketball

4th-year

Calgary, Alta.

Arts & Science

GAME LOG: Friday, Nov. 29 – 28 points, 12 rebounds, 1 block in 90-58 win at Thompson Rivers / Saturday, Nov. 30 – 24 points, 9 rebounds, 2 blocks in 90-38 win at Thompson Rivers.
The No. 1 ranked team in the nation kept on rolling this weekend as the Saskatchewan Huskies moved to a perfect 8-0 in conference play and 14-0 overall.
A big part of their hot start has been the play of Summer Masikewich, in two games against the Thompson Rivers WolfPack Masikewich scored 52 points and posted 21 rebounds.
On Friday night Masikewich was on fire from the line, sinking 16 free-throws en route to a 28-point performance that also saw the fourth-year forward pull down 12 boards in a 90-58 win in Kamloops.
The Arts & Science major followed that up by going 8-10 from the field to post 24 points and pull down a further nine rebounds in a 90-38 victory.
The reigning conference defensive player of the year, Masikewich has been a force down low for a Huskies' defence that has surrendered more than 45 points in a game just twice in their eight Canada West contests.
After the winter break, Masikewich and the Huskies will be back in action for a pair of games against the Trinity Western Spartans in Langley, B.C. on January 3 and 4.
SECOND STAR: F - Keylyn Filewich
UBC Thunderbirds / Basketball

4th-year

Winnipeg, Man.

Science

GAME LOG: Friday, Nov. 29 – 23 points, 10 rebounds, 2 steals, and a block in 76-54 win over Lethbridge / Saturday, Nov. 30 – 22 points, 13 rebounds, 2 steals, and 2 blocks in 58-55 win over Lethbridge.
With a combined 55 points and back-to-back double double performances, Keylyn Filewich led the Thunderbirds to a weekend sweep over the Lethbridge Pronghorns to extend UBC's win streak to five games.
The fourth-year forward from Winnipeg led all players both nights at War Memorial Gym in both points and rebounds on nearly 56 percent shooting.
Filewich has had a tremendous start to the Canada West season, leading the conference in total points and rebounds. The all-star forward is also tops in total field goals made and second in shooting at 56.8 percent
Heading into the December break on a five-game win streak, the 'Birds sit fourth in the Canada West with a 7-3 record. UBC returns to conference play January 3rd when they visit the Fraser Valley Cascades for the first half of a weekend double header to kick off the New Year.
THIRD STAR: OH - Kory White
Alberta Pandas / Volleyball

4th-year

Edmonton, Alta.

Ag., Life, & Environmental Sciences

GAME LOG: Friday, Nov. 29 – 20 kills, 4 digs, and 22.5 points in 3-1 win vs. UBC / Saturday, Nov. 30 – 18 kills, 8 digs, and an ace in 3-0 win vs. UBC.
Fourth-year Pandas outside hitter Kory White continued to torch Canada West competition this past weekend, as her 38 kills helped lead the Pandas to a series sweep of the nationally ranked UBC Thunderbirds.
White added to her conference lead in kills with 20 on Friday and 18 on Saturday night at home, while also adding 12 digs and 41.5 total points in the Pandas sweep.
With the pair of wins, Alberta finished the first half with a 7-5 record, as they dropped just one set to the No. 9 ranked Thunderbirds at Saville.
The Edmonton, Alta. product leads the nation with 234 kills and 5.09 kills per set. Her 234 kills are 62 more than anyone else in the country. If she maintains this pace, White would become just the fourth player in Canada West history to record 400 kills in a single season.
The Pandas will resume conference action on January 3rd and 4th, as they visit the 2-10 Brandon Bobcats.