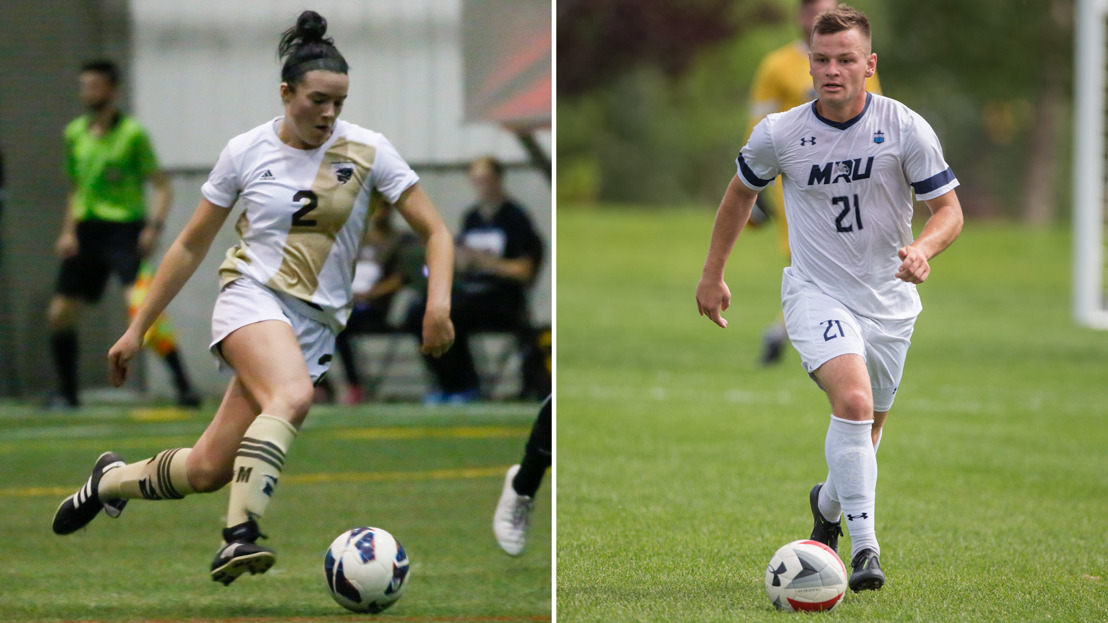 CW Stars: Defenders show scoring touch
Young, MacPhee named top stars as soccer season heats up
EDMONTON – Soccer defenders Stefanie Young and Trevor MacPhee are the Canada West First Stars of the Week after putting up some impressive offensive numbers
Young recorded a pair of goals and two assists for the Manitoba Bisons, while MacPhee netted the first hat trick in Mount Royal's Canada West history last weekend.
The pair now move forward as the conference nominees for the U SPORTS Athlete of the Week awards.
---
WOMEN'S THREE STARS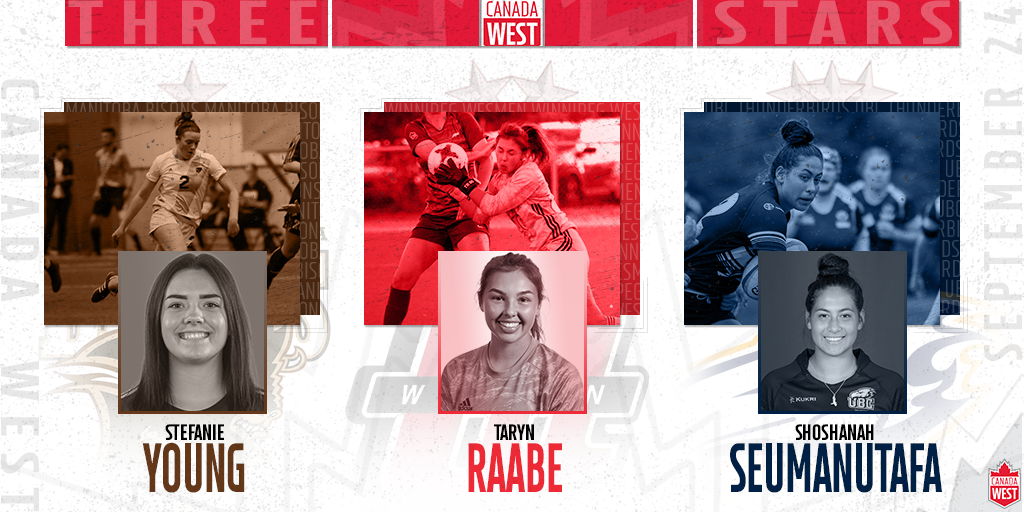 FIRST STAR: D - Stefanie Young
Manitoba Bisons / Soccer

1st-year

Kelowna, B.C.

University 1

GAME LOG: Friday, Sept. 20 – goal and 2 assists in 4-0 home win vs Thompson Rivers / Saturday, Sept. 21 – goal in 1-0 home win vs. UBCO.
In a weekend where the Bisons scored five goals in shutout wins over Thompson Rivers and UBCO, it was hard to miss the presence of first-year defender Stefanie Young.
Young continued an excellent start to her university career — putting her name on the sheet on all but one of Manitoba's goals, scoring twice and adding two assists.
In Friday's 4-0 win over Thompson Rivers, Young assisted on two first-half goals by Nicole Davis. In the second half, she scored her own goal from outside the box, putting a booming kick off the crossbar and in.
In Saturday's 1-0 win over UBC Okanagan, the Kelowna native broke a tactical match open by finishing a corner kick in the dying moments of the first half.
Despite being in her first year, Young is already turning heads in the conference as her six points and four goals are both tied for fourth in Canada West and 26 shots have her second alone.
Young joins the Bisons from the Okanagan Mission Huskies in BC and celebrated her birthday on Saturday with a win over UBCO.
SECOND STAR: GK - Taryn Raabe
Winnipeg Wesmen / Soccer

1st-year

Winnipeg, Man.

Kinesiology & Applied Health

GAME LOG: Friday, Sept. 20 – 9 saves, 1 PK save in 2-0 home win vs. UBCO / Saturday, Sept. 21 – 9 saves, 1 PK save in 2-1 home loss to Thompson Rivers.
Freshman keeper Taryn Raabe continued her breakout season registering her first career clean sheet Friday in a 2-0 win against UBCO. In that match, Raabe also stopped her first career penalty, robbing Jessica Ambrosio during time added on in the first half.
The following night, Raabe did it again, stopping a penalty in the 19th minute. The rookie held her squad in the game, but the Wesmen fell 2-1 to Thompson Rivers.
Raabe is making an average of 7.5 saves per game and has started and finished all six conference matches this season.
THIRD STAR: C - Shoshanah Seumanutafa
UBC Thunderbirds / Rugby

3rd-year

Vancouver, B.C.

Arts

GAME LOG: Sunday, Sept. 22 – 18 points (2 tries, 4 converts ) in 63-0 home win vs. Alberta.
2018 Canada West All-Star Shoshanah Seumanutafa led the way in a Thunderbirds rout of the Pandas Sunday, scoring two tries and four converts, accounting for 18 of UBC's 63 total points.
The third-year centre has hit double digit points in each of her last two matches and now leads the Canada West with 36 total points.
Through three weeks of conference play, the Vancouver product is tied for the Canada West lead in tries scored and leads all players with eight total converts.
Seumanutafa and the 1-2 Thunderbirds will aim to start a win streak when they host the Lethbridge Pronghorns on Sunday, September 29th.
---
MEN'S THREE STARS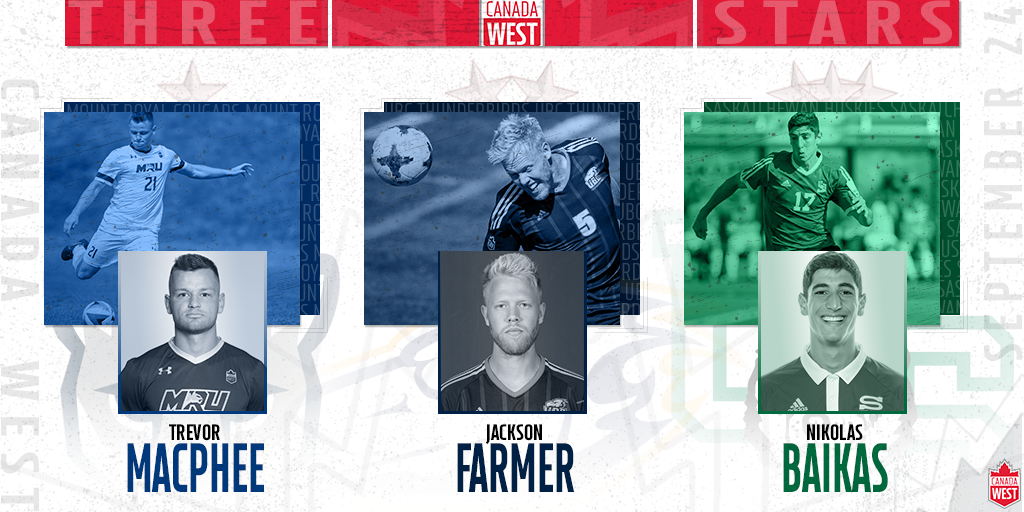 FIRST STAR: D - Trevor MacPhee
Mount Royal Cougars / Soccer

5th-year

Calgary, Alta.

Business

GAME LOG: Sunday, Sept. 22 – 3 goals in 5-0 home win vs. Trinity Western.
In just one game last weekend, Mount Royal Cougar Trevor MacPhee made an impact.
After missing Saturday's 2-1 home win over Thompson Rivers due to yellow card accumulation, MacPhee returned to the lineup Sunday against Trinity Western and made a little bit of history.
The veteran defender became the first player since MRU joined Canada West in 2011 to record a hat trick in the Cougars' 5-0 shutout win over TWU.
MRU is 7-2-0 thus far this season and sits atop the conference's Prairie Division. They're at home again this weekend when they host MacEwan and Alberta.
SECOND STAR: D - Jackson Farmer
UBC Thunderbirds / Soccer

3rd-year

Edmonton, Alta.

Arts

GAME LOG: Saturday, Sept. 21 – game-winning goal in 2-0 road win at MacEwan / Sunday, Sept. 22 – game-winning goal in 5-1 road win at Alberta.
Edmonton's Jackson Farmer had a big impact in his hometown over the weekend, helping the UBC Thunderbirds to a pair of road wins over both the MacEwan Griffins and Alberta Golden Bears.
Farmer scored the game winner in Friday night's 2-1 win over the Griffins on a header off a throw-in in the 87th minute, one of his two shots on target.
The third-year Arts student followed up with his second straight game winner the next night against the Bears, scoring in the 35th minute. Seven minutes later, Farmer assisted on Ryan Arthur's insurance marker.
Thanks largely to Farmer's efforts, the 'Birds have now won three in a row and sit atop the Pacific division with a 5-1-1 record. UBC heads to Prince George this coming weekend for a pair of tilts against the UNBC Timberwolves.
THIRD STAR: F - Nikolas Baikas
Saskatchewan Huskiues / Soccer

2nd-year

Saskatoon, Sask.

Business

GAME LOG: Saturday, Sept. 21 – 2 shots on goal in 2-0 home loss vs. Trinity Western / Sunday, Sept. 22 – two goals in 2-1 home win vs. UBCO.
Second-year forward Nikolas Baikas caught fire last weekend, leading the way offensively for the Huskies as they picked up one win and one loss at home.
Baikas, a business student, recorded three shots – two on goal – in a 2-0 loss to Trinity Western on Saturday, then tallied twice in a 2-1 win against UBC Okanagan Sunday. After opening the scoring with a calm finish Sunday, Baikas scored one of the goals of the season to win the game in the second half. Bouncing a throw-in off the back of a teammate and back to himself, Baikas curled in a shot from just off the sideline into the far top-corner of the net.
Baikas leads the conference with 37 shots and is tied for the ninth with three goals scored. Saskatchewan remains at home to face the University of Lethbridge Pronghorns on September 28.