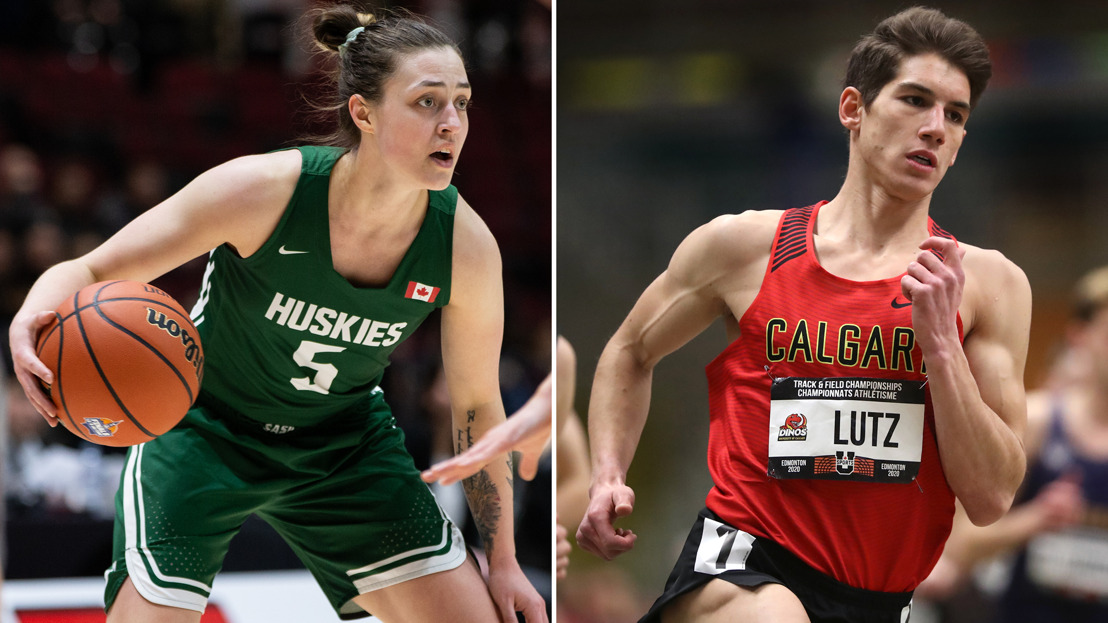 CW Stars: Big performances at U SPORTS championships honoured
Saskatchewan's Dukate dominated on hardcourt, Calgary's Lutz on track
EDMONTON – Saskatchewan's Sabine Dukate and Calgary's Eric Lutz are the Canada West first stars of the week following outstanding performances at U SPORTS national championships over the weekend.
Dukate earned MVP honours at the U SPORTS Women's Basketball Final 8 in Ottawa, as she led the Huskies to their second national title in program history Sunday. The Latvian netted 24 points in Sunday's final, as Saskatchewan cruised past Brock 82-64.
On the track, Lutz picked up gold in the 1000 and 1500-metres at the U SPORTS Track and Field Championships in Ottawa. Thanks to his performances, the Red Deer, Alta. product was named the male athlete of the meet.
Both Dukate and Lutz now move forward as the CW nominees for the U SPORTS Athletes of the Week.
---
WOMEN'S THREE STARS
FIRST STAR: G - Sabine Dukate
Saskatchewan Huskies / Basketball

5th-year

Ventspils, Latvia

Arts & Science

GAME LOG: Thursday, March 5 – 21 points in 73-59 win vs. Carleton in U SPORTS QF / Saturday, March 7 – 8 points, 2 rebounds in 76-57 win vs. Laval in U SPORTS SF / Sunday, March 8 – 24 points, 3 rebounds, 3 assists in 82-64 win vs. Brock in U SPORTS Final.
Sabine Dukate made sure she ended her incredible Huskies' career on top, scoring 53 points over three games to lead Saskatchewan to a second U SPORTS national championship in program history.
Named the tournament MVP and a tournament all-star, Dukate was on fire from long-distance all tournament long, helping the Huskies to wins of 14, 19 and 18 points as Saskatchewan dominated the field for their second title in the last five years.
Starting the weekend with a quarter-final win over the Carleton Ravens, Dukate went 5-of-11 from beyond the arc and finished with a game-high 21 points, 13 of which came in the opening quarter.
The product of Ventspils Latvia followed that up with eight points in a semifinal victory over the Laval Rouge et Or before taking over in the championship game.
Dukate knocked down 8 of 12 three-pointers in the title game, a new record for the U SPORTS women's basketball championship. Scoring a game-high 24 points, Dukate's touch from three-point land led the Huskies past the Brock Badgers.
Dukate ends her five years with Saskatchewan with four Canada West titles and a pair of U SPORTS national championships.
SECOND STAR: OH - Hilary Howe
Trinity Western Spartans / Volleyball

4th-year

Calgary, Alta.

Business

GAME LOG: Saturday, March 7 – 17 kills, 13 digs, 4 blocks in 3-2 win over Alberta in CW Championship.
It was the Spartans final game of the Canada West season, and Hilary Howe showed up big time.
The fourth-year outside hitter stepped up in a big way to lead TWU to its first conference championship win on home court. In Saturday's final, the Calgary native had a team-high 17 kills, alongside 13 digs and 4.0 blocks to once again lead the Spartans offensively, as the first team CW all-star led the TWU to its second consecutive conference championship.
Howe and the Spartans next set their eyes on the U SPORTS Championship, as they open the national tournament Friday (6 p.m. MDT) against host Calgary Dinos at the Jack Simpson Gym.
THIRD STAR: Michelle Harrison
Saskatchewan Huskies / Track & Field

5th-year

Saskatoon, Sask.

Arts & Science

MEET LOG: Thursday, March 5 to Saturday, March 7 – Gold medal and U SPORTS record in 60m hurdles, silver in the 4x200m and 4x400m relays.
Michelle Harrison capped off an outstanding 2019-20 track & field season with a pair of major awards, three national medals and new U SPORTS record at the U SPORTS Track & Field Championships.
Before the meet started Harrison was named the U SPORTS Track Athlete of the Year for pair of records she set, and pair of medals she won at the Canada West Championships. On the second day of competition in Edmonton, Harrison put her name atop the all-time U SPORTS record book when she won gold in the 60-metre hurdles in a record-setting time of 8.15 seconds.
Not finished there, the product of Saskatoon then went on to claim a pair of silver medals on the final day of competition, helping the Huskie to second-place finishes in both the 4x200- and 4x400-metre relays.
At the conclusion of the meet Harrison was named the Female Athlete of the Meet for her incredible performance.
---
MEN'S THREE STARS
FIRST STAR: Eric Lutz
Calgary Dinos / Track & Field

3rd-year

Red Deer, Alta.

Arts

MEET LOG: Thursday, March 5 to Saturday, March 7 – Gold in 1000m and 1500m at U SPORTS Track & Field Championships.
Eric Lutz of the University of Calgary Dinos put the finishing touches on an impressive season this past weekend at the 2020 U SPORTS Track & Field Championships.
A member of the Dinos national champion men's cross country team, Lutz earned a pair of gold medals in the men's 1000m and 1500m. In both races, Lutz sat quietly behind the leader until timing perfect moves and blew by his competitors en route to convincing wins in both events.
His performance at the national meet in Edmonton saw him named the U SPORTS Athlete of the Meet. Before the competition began, he also won the national student-athlete community service award.
SECOND STAR: G - Manroop Clair
UBC Thunderbirds / Basketball

5th-year

Surrey, B.C.

Unclassified

GAME LOG: Friday, March 6 – 11 points and 2 assists in 103-66 win vs. Bishop's in U SPORTS QF / Saturday, March 7 – 16 points, 6 rebounds in 84-55 loss to Dalhousie in U SPORTS SF / Sunday, March 8 – 39 points, 10 rebounds and 5 assists in 99-82 win over Western in U SPORTS bronze medal game.
Fifth-year guard Manroop Clair sure made a mark in his final game in the blue and gold, leading the UBC Thunderbirds to a 99-82 win over the Western Mustangs in the U SPORTS bronze medal game in Ottawa.
Hitting double digits in points in both UBC's quarter-final win over Bishop's and their semifinal loss to Dalhousie, Clair put up a whopping 39 points and a double-double performance on Sunday to help the 'Birds to their bronze medal finish.
Clair's stellar week in Ottawa also saw him named to the Championship All-Star team, the only representative from Canada West.
THIRD STAR: OH - Eric Loeppky
Trinity Western Spartans / Volleyball

4th-year

Steinbach, Man.

General

GAME LOG: Saturday, March 7 – 8 kills, 4 aces, 4 blocks, 3 digs, .438 hitting in 3-0 win over Alberta in CW Championship.
In what was the final game of his career in front of the Spartan faithful, Eric Loeppky made it count.
The fourth-year outside left everything out on the court last Saturday, as the Spartans picked up a thrilling three set victory over Alberta in the Canada West Championship. In the match, Loeppky picked up eight kills, four aces and four blocks to lead the Spartans to a home court win and conference championship. He continued to do what he did best, hitting an efficient .438 in the match and giving TWU's fans one final look at the dominance that led him to being named Canada West and U SPORTS Player of the Year.
Loeppky and the Spartans open their U SPORTS Championship defence this weekend beginning Friday in the national quarter-finals as they take on Manitoba (6:30 p.m. CDT) at Investors Group athletic Centre in Winnipeg.