CW Hall of Fame honours track record-breaker
Former University of Alberta Panda earns induction
14 July 2022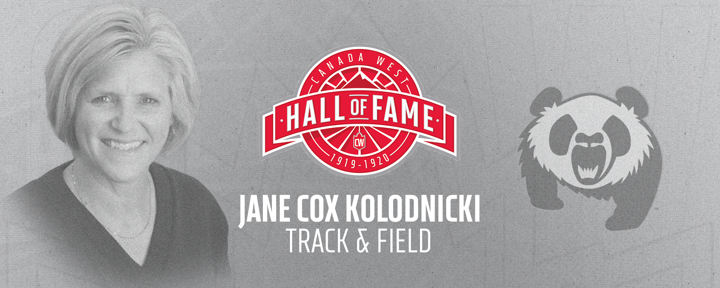 CALGARY - The newest member of the Canada West Hall of Fame is Jane Cox Kolodnicki, the conference announced Thursday. Kolodnicki could fly on the track, but also through the air over the long jump pit. She was the cream of the crop in the late 1980s and early 1990s, when she turned her record-smashing potential into reality. Thus, Cox Kolodnicki's name holds reverence in the world of track and field, especially at the University of Alberta, where her 32-year-old long jump record remains the mark to beat to this day. That's one of the longest standing records in team history. Fittingly, Cox Kolodnicki won the UAlberta track and field trophy twice in her career.
Cox Kolodnicki was a force in the long jump pit, where she scooped up two CIAU gold medals in three championship events. But she also excelled on the track. Cox Kolodnicki was the fastest woman in Canada West in 1991, racing to gold in the 60-metre sprint. She also helped her team capture silver in the 4 by 200-metre relay. That team went on to earn bronze at nationals.
In total, Cox Kolodnicki owns nine conference and national medals, three all-Canadian titles and three Academic All-Canadian awards.
Cox Kolodnicki's 1990 amazing leap of 6.14 metres broke the national record at the time. Canadian long jumpers tried for nine years to best it before they were successful.
Cox Kolodnicki graduated with her Bachelor of Education with Disctinction in 1991 before completing her Master of Education. She competed for the national team and focused on helping the next generation, both in the classroom and on the track.
---
ABOUT THE CANADA WEST HALL OF FAME
For the last century, organized university sport has been a central part of the student experience at institutions across Western Canada. Beginning with the University of Manitoba capturing the first Western Canadian Intercollegiate Athletic Union (WCIAU) men's hockey banner in 1919-20, student-athletes have been competing to reach their full potential in sport and the classroom, while enriching campus life. 
To commemorate 100 years of university sport across Western Canada, the Canada West Hall of Fame was created in the spring of 2019. This year's induction class will be unveiled throughout the summer of 2022.
VISIT: CanadaWestHallofFame.org