CW Hall of Fame adds field hockey great
Former University of Calgary Dino, Michelle Conn, inducted
30 June 2022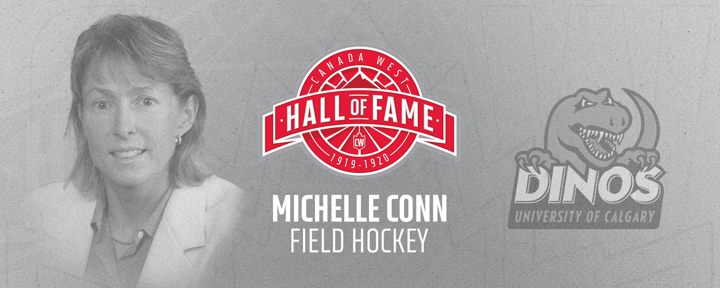 CALGARY - The newest member of the Canada West Hall of Fame is Michelle Conn, the conference announced Thursday. Conn was a special talent in the world of field hockey, regarded highly not only in the world of university athletics, but on the world stage.
Conn worked her way to esteem, now regarded as one of the top goal scorers ever produced in women's field hockey in Canada.
She graduated from St. Francis High School in Calgary before signing on with the Dinos as an instant game-changer. Conn was the first University of Calgary player to earn an All-Canadian distinction in the sport in 1985. The three-time Canada West all-star is regarded as one of the best to don a Dinos field hockey uniform. She represented the school from 1981-1985.
"Michelle had a fabulous career at the University of Calgary being a five-year starter for the Dinos. Her talent on the pitch allowed her to become an elite member of the Canadian National Women's team and go down as one of if not the best field hockey players not only in school history but in the Province of Alberta," said Jack Neumann, CW Hall of Fame Class of 2019.
While at the University of Calgary, Conn boosted the profile of another red-and-white team. She represented Canada from 1983 to 1992, competing in 93 international events. That included starting for the 1988 and 1992 Olympic teams, the latter of which she co-captained. Conn captured a bronze medal at the 1986 World Championships in Holland, which was the second highest ever placing by the national team.
Conn earned her Bachelor of Sciences degree in 1988 before adding a Certified General Accountants designation in 2001.
Conn is already a member of the University of Calgary Hall of Fame and Alberta Sports Hall of Fame. She now adds Canada West Hall of Fame to that list.
---
ABOUT THE CANADA WEST HALL OF FAME
For the last century, organized university sport has been a central part of the student experience at institutions across Western Canada. Beginning with the University of Manitoba capturing the first Western Canadian Intercollegiate Athletic Union (WCIAU) men's hockey banner in 1919-20, student-athletes have been competing to reach their full potential in sport and the classroom, while enriching campus life. 
To commemorate 100 years of university sport across Western Canada, the Canada West Hall of Fame was created in the spring of 2019. This year's induction class will be unveiled throughout the summer of 2022.
VISIT: CanadaWestHallofFame.org