Canada West TV passes now on sale
Early ticket-buyers to save on all-access and sport passes
18 July 2022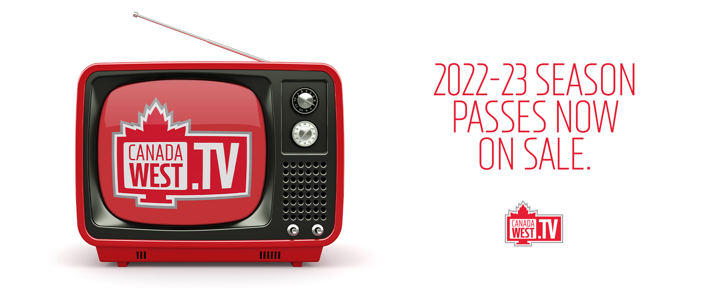 CALGARY - Another full season of university sport action is on the horizon, and Canada West does not want you to miss a second of it. With the first matches set for late August, the conference has put Canada West TV passes on sale, with early bird pricing for the next two weeks.
Canada West TV takes you right to the heart of the season's intriguing storylines, shows you the stories of our inspiring student-athletes, and lets fans experience the true spirit of elite amateur sport in Canada.
An overall sports enthusiast? The all-access pass lets you see every jaw-dropping moment from the gridiron, court, pitch, ice, pool and field. An incredible value, the all-access pass brings you brings you more than 1,000 games while supporting university athletics in Canada.
Fans can also purchase sport passes, playoff passes, championship passes or single game tickets.
Canada West and its 17 member schools invest heavily in production to broadcast and stream games for fans around the globe. The money generated from subscribers goes back into the service and university athletic programs.
CANADA WEST TV PASSES ON SALE HERE
EARLY-BIRD PRICING
Fans who scoop up their packages from July 18-August 1 will receive discounted rates on both the all-access and sport passes.
EARLY-BIRD PRICING:
All-access: $89.99
Sport pass: $34.99
---
2022-23 PASS OFFERINGS
Fans can catch their teams in action through different package options: all-access, sport passes, playoff passes, championship sport passes, and single game tickets.
---
ALL-ACCESS PASS
PRICES:
Early bird price (July 18-Aug. 1) - $89.99
Full price (Aug. 2) - $99.99
WHAT YOU GET: Access to absolutely everything on Canada West TV. Every regular season, playoff, championship, exhibition, and non-conference event webcast by our members – live and on demand.
With more than 1,000 events set to be webcast this season, fans will get the biggest bang for their buck with this pass.
---
SPORT PASS - REGULAR SEASON (available for football, soccer, hockey, volleyball, and basketball)
PRICES:
Early bird (July 18-Aug. 1) - $34.99
Full price (Aug. 2) - $39.99
WHAT YOU GET: Watch every regular season event in a single sport (both genders) – live and on demand.
If you're a fan of a specific sport, this pass is for you.
---
SINGLE EVENT PASS
PRICE: $8.99
WHAT YOU GET: This pass provides you access to a single event. If you watch the event live, you'll also have access to the archive on demand for 48 hours.
---
2022-23 POSTSEASON PACKAGING AND PRICING
For fans who don't purchase an all-access pass, you'll need to purchase a postseason pass (sport, or single event) to watch the playoffs (for soccer, hockey, basketball, volleyball and football). The playoff sport pass will give you access to all playoff games within a sport, from the first round or play-in match to the championship game.
For all championship sports (wrestling, swimming, track and field), a separate pass will be available for the weekend's action. Those will go on sale closer to the event dates at a price of $19.99.
---