Canada West names Sports Info & Digital Award winners
Fraser Valley & UNBC sweep the field
5 May 2022

WINNIPEG - After a captivating year of university athletics, those responsible for documenting and capturing it are being recognized for their exceptional work. Two schools have won the four awards after being selected by their peers.
The conference released the award-winners Thursday.
Dan Kinvig of the University of the Fraser Valley has won the Feature Story of the Year Award for the second straight year. UFV also takes home the Photo of the Year Award thanks to Tanner Geringer's talent behind the lens.
The University of Northern British Columbia's Rich Abney claims the Video of the Year award in back-to-back seasons, this time in collaboration with 6ixSigma Productions, Marcel Gagnon, and the Lheidli T'enneh Band. UNBC also earned the Social Campaign of the Year Award with contributors Rich Abney, Trevor Angus, 6ix Sigma Productions, Christos Sagiorgis, UNBC First Nations Centre, the Lheidli T'enneh Band, and Marcel Gagnon.
Since 2019, the Sports Information & Digital Awards have been handed out to conference members to recognize their outstanding work in the areas of sports information and digital storytelling.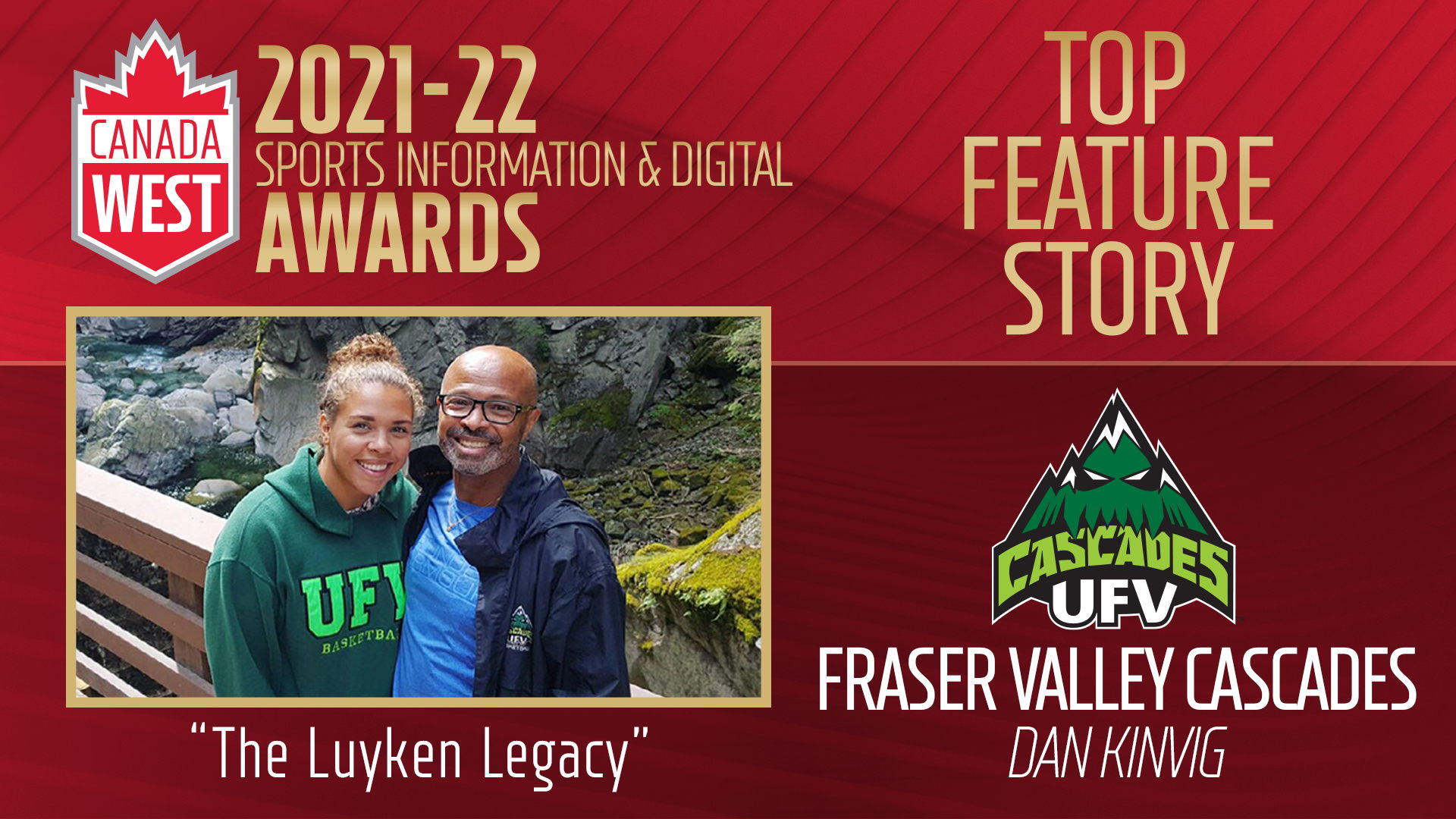 "...the passion for basketball extends beyond the simple hype of the game and becomes so all-encompassing and pure that it becomes a conduit for things in life that truly matter: Relationship. Community. Purpose.
​​
​It's in this sweet spot that Anthony and Aieisha Luyken live."
Dan Kinvig featured father-daughter duo Anthony and Aieisha Luyken in this inspiring piece that connects basketball to life. The longtime UFV Cascades have a unique view of the game: one that connects basketball to people and community in a deep and meaningful way. Kinvig wanted to honour and elevate their mindset through this feature that uses submitted photos and archival gems tied together with beautifully written prose.
The feature (read here) drew eyes of fans across the sport, and prompted alumni to reconnect with the program. The feedback was overwhelmingly positive as the article was one of UFV's most-viewed webpages during the season.
Other Nominees:
​Alberta - "Pandas Volleyball star engineering success on and off the court"
​Calgary - "The Golden Path: From the ACAC to National Champions"
​MacEwan - "Knox opens up about her mental health struggles and how the Griffins are helping her heal"
​Manitoba - "Legacy: The Brian Dobie Story"
​Mount Royal - "Rendle's experience on & off the pitch proving valuable for Cougars championship pursuit""
​Northern British Columbia - "A Heart for the Game: Nav Parmar's life in basketball, and the scare that nearly took it away"
​Saskatchewan - "'She has made the world of difference on our team:' Bumstead helping lead Huskies back to nationals"
​Trinity Western - "Spartan Spotlight | Derek Epp"
​Winnipeg - "Coming Home: Ambanza finds new life in new opportunity in African league"
---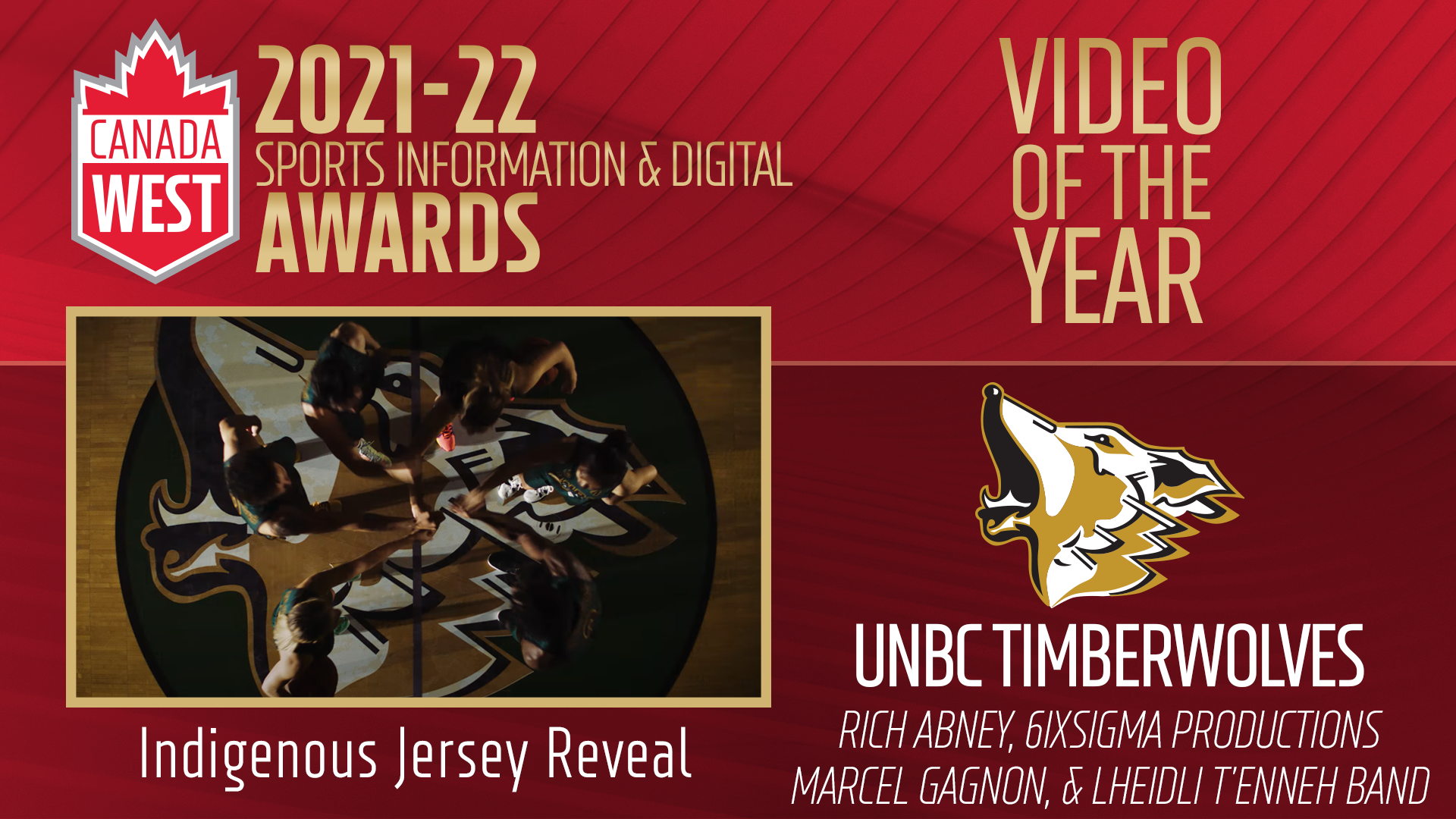 To unveil a historic jersey, UNBC produced a one-minute video in collaboration with Lheidli T'enneh Elder Marcel Gagnon, Indigenous youth, 6ixSigma Productions and a team of local drummers. UNBC alum Daniel Stark led the camerawork while 11 student athletes modelled the jerseys, which feature the first-ever university athlete logo created entirely by an Indigenous artist in Canada. Trevor Angus is the artist behind the design.
The video (watch here) captures the team's and logo's connection to Indigenous roots and culture. It is the most watched and shared video in UNBC history, which made national news and inspired professional teams to learn more about the initiative.
Other Nominees:
​Alberta - Sports Aren't for Everyone ​
​British Columbia Okanagan - 2022 UBCO Heat Year End Video
​Calgary - Dinos Women's Soccer: The Leonard Family
​Fraser Valley - You Can Play / Pride Night
​MacEwan - MacEwan Griffins win historic first U SPORTS women's soccer national championship
​Manitoba - The Return of Bisons Football | Homecoming 2021
​Mount Royal - Foundational friendship for Chirico and Marano leads to success on the pitch and beyond
​Saskatchewan - Bell Let's Talk 2022
​Trinity Western - "Don't Touch My Hair" | Black History Month 2022
---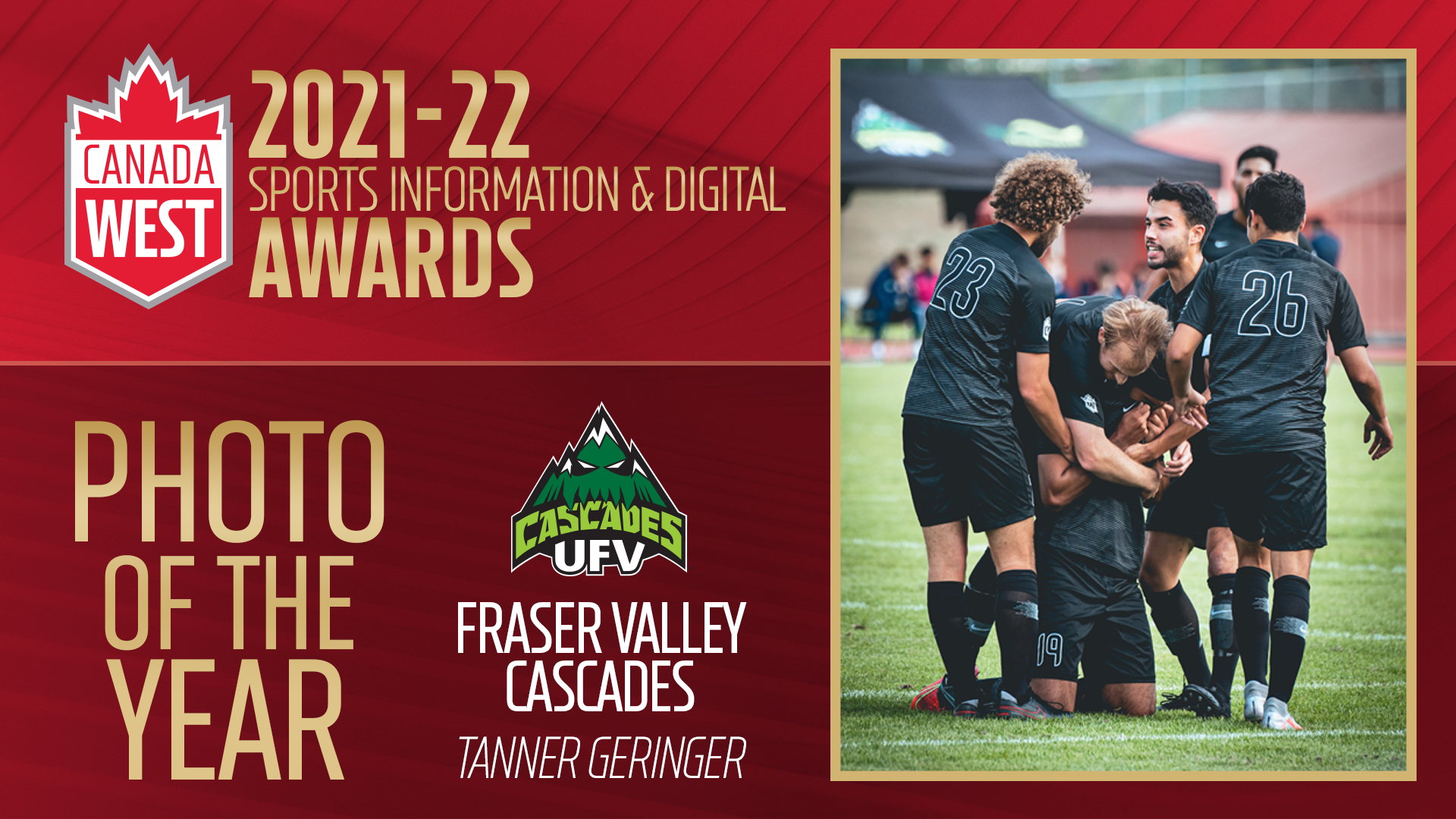 "I didn't see this in my future while I was recovering. To finally score, it was truly emotional."
The University of the Fraser Valley's Tanner Geringer captures the tearful celebration Manpal Brar shared with his teammates after scoring in the 37th minute on October 3, 2021. Brar had his university soccer career derailed by torn ACLs twice in the past five years, causing him to question if he'd ever play elite soccer again.
Two of the first players to arrive on the scene to embrace Manpal were David Parfett (left) and Ryan Donald (second from right). Both are lifelong friends who played youth soccer at Surrey United with Manpal and fully understood what this moment meant to him.
The full story can be found here.
Other Nominees (in order below):
​Alberta - Bears forward Adam Paige hits a three in front of sold out home crowd at national championship
​Brandon - Anthony Tsegakele dunks in front of home crowd
​British Columbia Okanagan - A net battle between UBCO and UBC men's volleyball teams
​Calgary - Two friends who made sacrifices to play on the same team this season embrace after having their season ended in the playoffs
​MacEwan - Raeghan McCarthy ties the record for the most career game-winning goals in program history
​Manitoba - Bisons score a touchdown against Regina ​
​Mount Royal - Cougars volleyball defeat Dinos in game one on the first weekend of CW Playoffs ​
​Northern British Columbia - UNBC's Fareed Shittu posterizes a 6-foot-10 defender
​Thompson Rivers - the first point won by WolfPack women's volleyball on home court after the COVID cancelled season
​Trinity Western - In national semi-finals, Tilly James makes a heroic run down the right wing and sends pass to Grace Van denBrink, who tied the match
​Winnipeg - Wesmen WBB player Deb Nkiasi celebrates during a critical moment of a nationals quarter-final win over Laval
---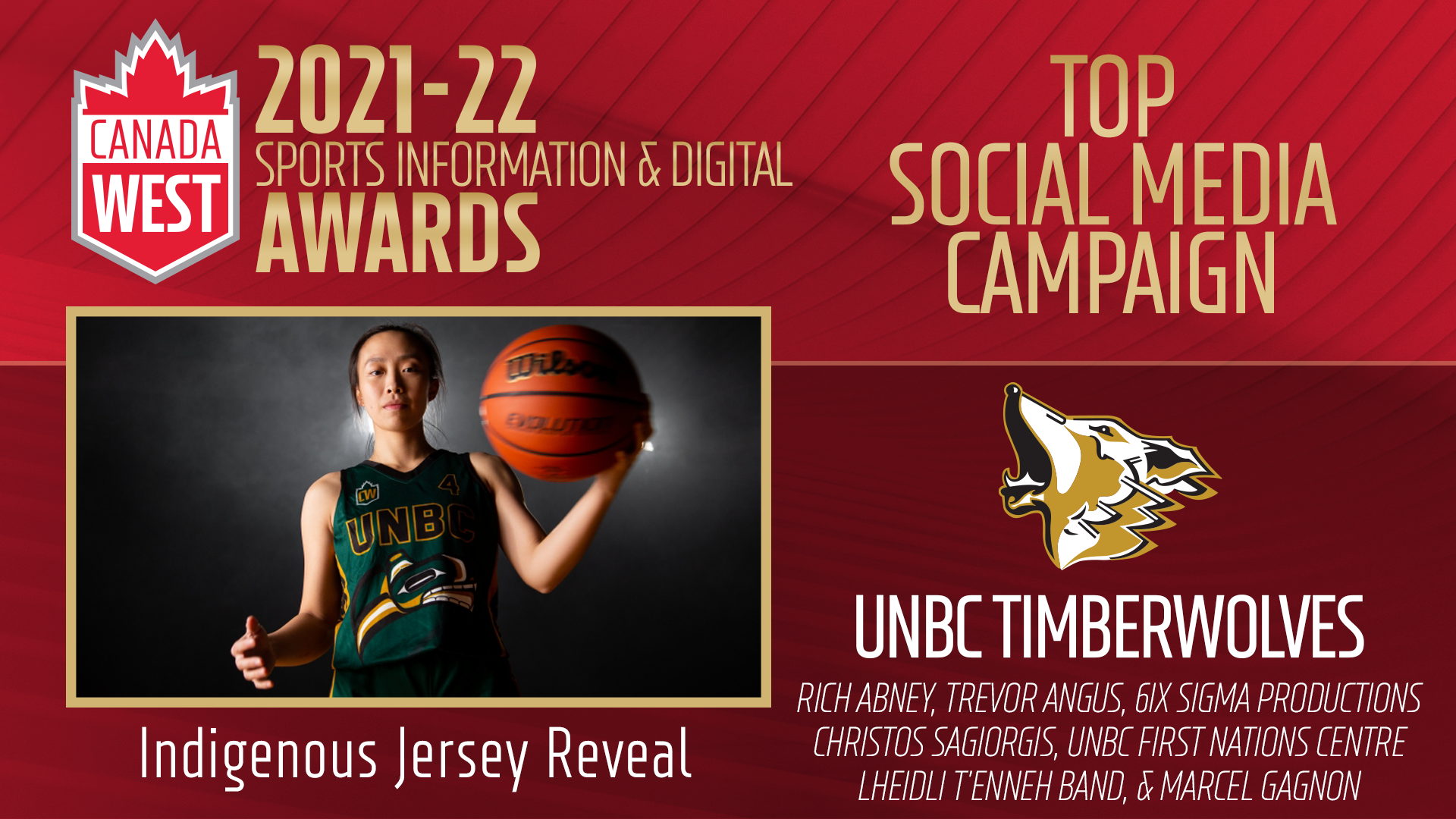 A collaborative project years in the making came to fruition this season, when UNBC's Rich Abney, Gitxsan artist Trevor Angus, UNBC's First Nations Centre, the Lheidli T'enneh band, Elder and Juno Award winner Marcel Gagnon and T-Wolves alum Daniel Stark all came together to create a new UNBC logo, jersey, annual Nats'ilnik ("coming together") Day and long-term partnership. That partnership sees the profits of the new jerseys and Nats'ilnik merchandise going to Indigenous scholarships and Lheidli T'enneh youth programming.
The campaign furthers the Timberwolves' efforts to contribute positively to Truth & Reconciliation.
The campaign was promoted through a series of social media graphics and video clips. It became the furthest-reaching UNBC content in the school's history, as it was featured on CBC The National, CTV National News, Global National, and around the world online.
Other Nominees:
​British Columbia Okanagan - #HeatForever (Graduating Seniors Videos)
​Calgary - UCalgary Dinos on TikTok
​Mount Royal - Black History Month video series
​Saskatchewan - Mic'd up series
​Trinity Western - SpartanMVB Instagram
-30-
​

​​
​