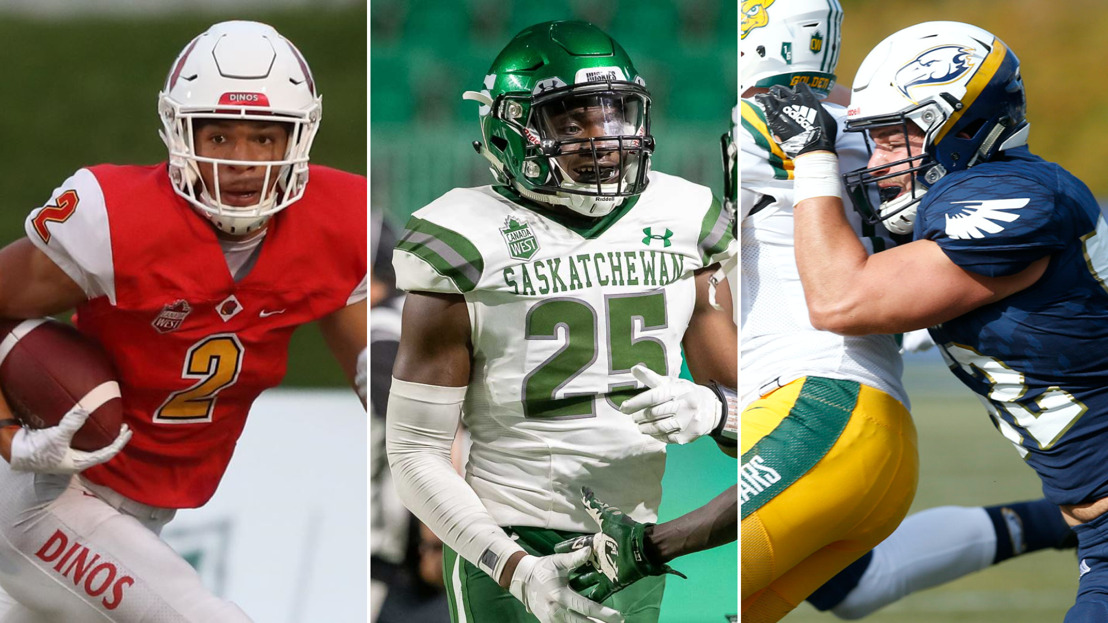 Canada West all-stars dot latest CFL Scouting Bureau Rankings
CW dominates U SPORTS talent on 20-player list
EDMONTON – Six players with Canada West connections have cracked the latest Canadian Football League Scouting Bureau rankings, which were released Thursday by the CFL.
Current Calgary Dinos Logan Bandy (OL - No. 12) and Grant McDonald (LB - No. 19) were joined by former Dino Deane Leonard (DB - No. 13), along with UBC Thunderbirds Ben Hladik (LB - No. 16) and Nick Cross (LB - No. 20), and Saskatchewan Huskie Nelson Lokombo (DB - No. 14).
CLICK HERE FOR COMPLETE CFL SCOUTING BUREAU RANKINGS
Canada West was the lone U SPORTS conference to land multiple players on the list, with the only other U SPORTS player being Montreal's Pier-Olivier Lestage (OL - No. 11).
The rankings are released three times each season (fall, winter, spring) ahead of the CFL Draft, and are selected by CFL scouts, as well as, player personnel directors and general managers from the CFL's nine member clubs.
While action across Canada was halted this season due to the ongoing COVID-19 pandemic, one CW name on the list is suiting up for games this fall.
Leonard, who transferred in the offseason to Ole Miss, has seen action in both of the Rebels Southeastern Conference games this season. The Calgary native was a key part of the Dinos' Vanier Cup championship in 2019, and was a CW all-star and first team All-Canadian in both 2018 and 2019.
CANADA WEST PLAYERS IN THE CFL SCOUTING BUREAU RANKINGS
Rank / Name / Position / CW school / Hometown / Program
12 / Logan Bandy / OL / Calgary Dinos / Calgary, AB / Kinesiology

13 / Deane Leonard / DB / Calgary Dinos / Calgary, AB / Business

14 / Nelson Lokombo / DB / Saskatchewan Huskies / Abbotsford, BC / Kinesiology

16 / Ben Hladik / LB / UBC Thunderbirds / Vernon, BC / Arts

19 / Grant McDonald / LB / Calgary Dinos / Tsawwassen, BC / Arts

20 / Nick Cross / LB / UBC Thunderbirds / Regina, SK / Arts